Where We Are
The Catalina Sea Camp program runs at two private cove locations on beautiful Catalina Island.  The one-week programs are located at Fox Landing.  The three-week programs are located at Toyon Bay.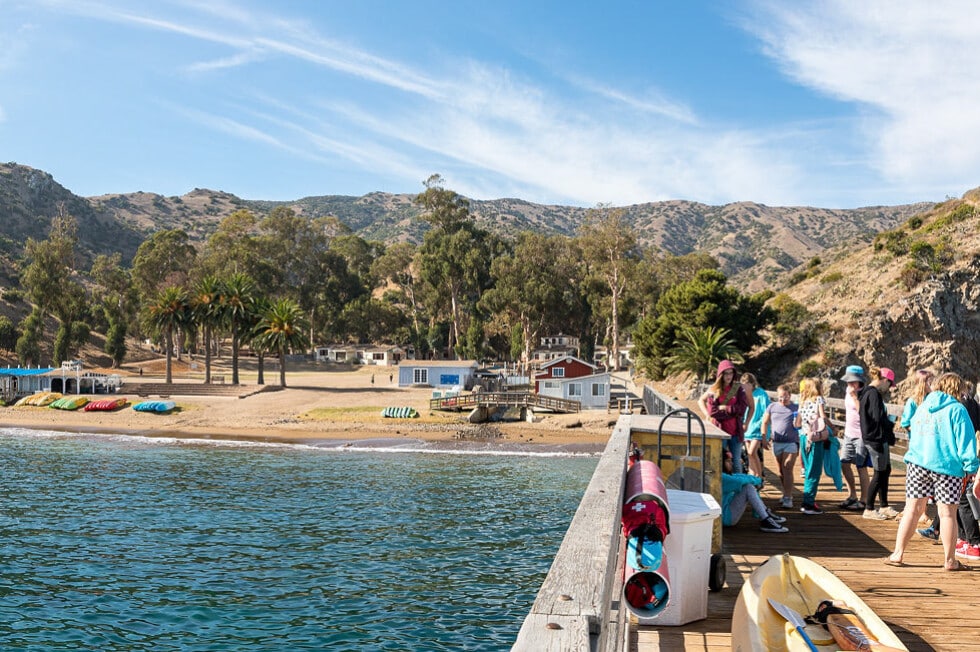 Getting to Catalina Island
Catalina Sea Camp staff will escort campers to and from Catalina Island aboard a large charter boat (700-passenger) leaving from the Queen Mary Terminal in Long Beach. The boat will be dropping the campers off on the private docks of Fox Landing and Toyon Bay. The fee for the ferry to and from Catalina Sea Camp is included in the session rate.
Queen Mary Ferry Terminal Drop Off & Pick Up Details
Campers are ferried to and from camp via the Catalina Classic Cruises charter boats located right next to the Queen Mary Terminal. Here is the arrival and departure day location:
Queen Mary Terminal: 1126 Queens Hwy, Long Beach, CA 90802
You will see Catalina Sea Camp signage and staff stationed throughout the parking lot to help direct you. Due to the location of the doc, you may have to pay for parking. Campers prone to seasickness should take anti-motion sickness medication. If there are changes or emergencies that will affect the camper pick-up or drop-off time or location, you will be notified by email, phone blast, and text.
Arrival Days
Check-In: 11:00AM – 1:00 PM  (DEPART AT 1:45 PM)
One-Week Campers – Saturdays
Three-Week Camper – Sundays
Report to the Queen Mary Terminal between 11:00 a.m. and 1:00 p.m. to check-in at the Catalina Sea Camp staging area. We ask that you stay with your camper at the terminal until the boat leaves. The boat will depart at approximately 1:45 p.m. LUNCHES ON THE DAY OF DEPARTURE ARE THE RESPONSIBILITY OF EACH FAMILY. There is a snack bar on the boat packed with lunch items and candy; $20.00 would be more than enough for both trips.
Departure Days
Check-Out: Approximately 12:00pm
One-Week & Three-Week Campers – Fridays
Campers should arrive from camp at the Queen Mary terminal at approximately 12:00 p.m. Please make arrangements to pick your child up at the terminal at the appropriate time. Please bear in mind that the boats are not always on schedule and we request your patience should they run late. Any camper not picked up within 1 hour of arrival in Long Beach will be charged a late fee of $50.00 per hour. This charge must be paid upon pick-up of the camper.
Fly to Camp
Many campers come from Catalina Sea Camp from afar. Catalina Sea Camp will be offering transportation to and from Los Angeles International Airport (LAX) only.
There is a $50 charge each way for the LAX airport transportation service.
You may reserve a space for your camper(s) when registering online and/or completing the Transportation Form located in the camper account.
Campers will be picked up at LAX and transported to the ferry location in Long Beach, please see the flight time requirements:
Arrival Information
All flight arrivals must be made to LAX Airport between 8:00 AM and 10:30 AM on the first day of camp.
Departure Information
All flight departures must be made from LAX Airport between 3:00 PM and 5:00 PM on the last day of camp.
Flights outside of the above time frame will result in additional fees and must be approved by the director.