Explore Hands-On Marine Science at Fox Landing
Catalina Sea Camp's one-week unique ocean adventure summer camp program is full of snorkeling, boat trips, hands-on marine science, and the chance to see all kinds of animals in the wild. Our team of counselors and instructors will guide campers through a week filled with exploration, adventure, and connection.
Develop confidence

Build independence through trying new things and getting out of your comfort zone.

Immerse in Science

Experiential marine-focused labs and activities designed to spark the mind.

Build Friendships

Belonging to a community that feels like family.
Mealtimes
8:00-8:30 Breakfast
12:30-1:00 Lunch
6:00-6:30 Dinner
Saturday
11:30am-1:00pm Check-In Long Beach
1:45pm-3:55pm Boat Ride to Fox Landing
4:00pm Welcome
4:15pm Move In / Tour / Team Pics
5:00pm Guideline Talk
6:30pm Rec Time
7:00pm Opening Campfire
8:30pm Dorm Talks
Sunday
9:00am Core Activity #1
10:45am Core Activity #2
1:00pm Quad Time
2:00pm Core Activity #3
3:45pm Core Activity #4
6:30pm Rec Time
7:30pm Crew Night
8:30pm Campfire
Monday
9:00am Core Activity #1
10:45am Core Activity #2
1:00pm Quad Time
2:00pm Core Activity #3
3:45pm Core Activity #4
6:30pm Rec Time
7:30pm Crew Night
8:30pm Campfire
Tuesday
9:00am Core Activity #1
10:45am Core Activity #2
1:00pm Quad Time
2:00pm All Camp Clean Up
6:30pm Rec Time
7:30pm Dive Deck Social
Wednesday
9:00am Core Activity #1
10:45am Core Activity #2
1:00pm Quad Time
2:00pm Core Activity #3
3:45pm Core Activity #4
6:30pm Rec Time
7:30pm Elective Night
Thursday
9:00am Core Activity #1  
10:45am Core Activity #2  
1:00pm Quad Time 
2:00pm Core Activity #3  
3:45pm Core Activity #4 
6:30pm Packing 
7:30pm FINAL NIGHT EXTRAVAGANZA! 
Ice Cream Social, Closing Campfire, & Final Slideshow 
Friday
9:00am Pack & Clean
10:00am – 12:00pm Boat to Long Beach
SEE YOU NEXT SUMMER!
Our One-Week Location
Located about 5 miles from the town of Avalon, Fox Landing houses a beautiful property with waterfront open-air villas, colorful hillside cabins, marine science labs, and the shelter of Long Point to create an unforgettable environment for learning and fun!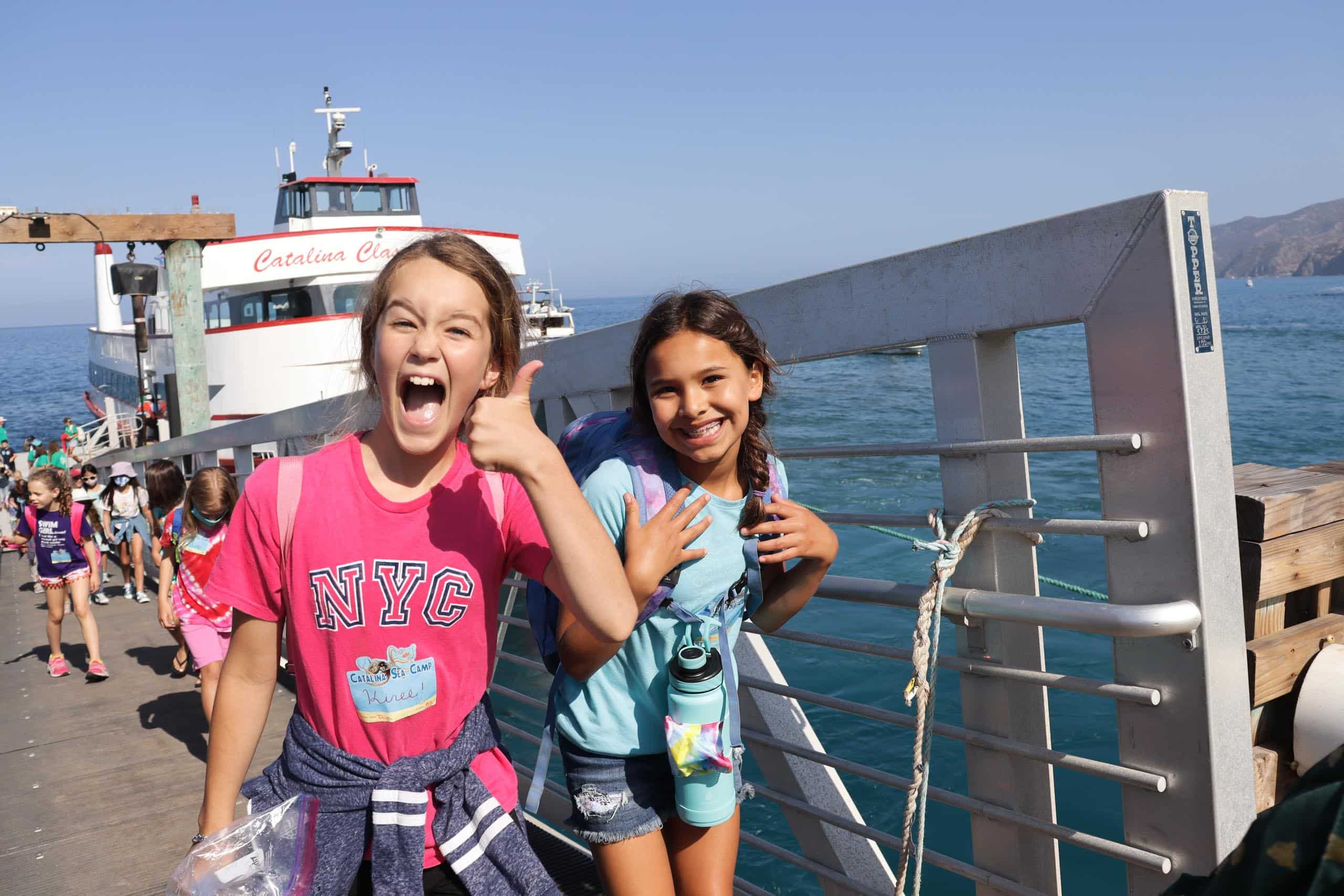 My daughter was scared and unsure going in and everyone right away made her feel like she was truly part of something. You all helped her step out of her comfort zone and prove to herself all she is capable of. She came back with such high confidence and self-esteem. You all made the learning process exciting enough she has finally made the decision to pursue her dream of becoming a marine biologist.
Frequently Asked Questions
How is the staff hired and trained at Sea Camp?
We take pride in employing a well-trained staff of the highest quality. All staff must have a background check and pass a drug test before being hired.
Counselors: All cabin counselors are current college students who have a background working with children. Applicants go through a rigorous hiring process, including multiple interviews, a background check, and drug testing. Additionally, many cabin counselors were Sea Campers themselves.
Counselors go through an intensive 8-day training program before any campers arrive at camp. They are trained in team building, group leadership, child development, and safety. All of this trains them to be sensitive to individual campers' needs and life experiences. Camp logistics and programs are also covered during training. Additionally, counselors participate in a number of role-playing activities to prepare for situations that could arise during the summer.
Instructional Staff: The Diving, Sailing, and Science & Adventure instructors all have at least a Bachelor's Degree, usually in the Sciences, and are trained and certified in their particular specialty.
Additionally, all of our instructors have a background working with children, and many work full-time during the year as teachers for our CIMI (Catalina Island Marine Institute) Marine Science education program. Specialty instructors also participate in the 8-day training program prior to camp. During this intensive training program, they learn the specifics of teaching their particular specialty and how to tailor their teaching style and activities to children and teenagers. Specialty instructors also are trained in emergency procedures, first aid/CPR, and lifesaving.
How can I communicate with my camper during the session?
Camp is a unique experience for your camper to gain some independence and be able to fully immerse in the camp experience.
Camper Emails (also known as Bunk Notes) can be sent and viewed via the Campanion App (recommended) or CampInTouch Account. CampStamps are used to pay for the emails you send to your campers. Catalina Sea Camp provides 5 CampStamps for per parent/per camper/per week. You are welcome to purchase more CampStamps through your account. Each email requires one CampStamp per recipient. CampStamps rollover from previous seasons.
Telephone calls to or from the campers are not allowed due to their busy schedules and our camp's belief in camper independence. If you have any concerns about your child, our staff is available to help you. Please call camp between 8:00 am and 5:00 pm at (310) 510-1890. Calls after 5:00 pm or on the weekends may be answered by a camp administrator or an answering machine.
Due to the busy schedule and safety of our campers, we do not allow any in-session visits or tours.
What is the difference between the one-week sessions and the three-week sessions?
Our one-week sessions are designed for campers ages 8-13.  In the one-weeks, we keep the campers really active and engaged with morning pre-selected core activities that the cabin group will do together.  In the afternoon, they will have the opportunity for some free choice in our various elective activity options.  The one-week sessions are a great option for those younger campers who have never experienced an overnight summer camp before.
Our three-week sessions are designed for campers 12-17 with more opportunities for campers to build their schedule based on their individual interests.  Mirroring a university-style experience, campers will provide their activity preferences prior to camp and will attend those activities multiple times during their camp session to build their skills.  Our three-week programming allows for kids to immerse themselves in the camp experience and create deep, meaningful camp friendships.